Non-Fiction Books
ALSO AVAILABLE IN EBOOK FORMAT FOR KINDLE, NOOK AND OTHER FORMATS
THEY BITE! Endless Cravings of Supernatural Predators
From the shadowy worlds of myth and legend…From the pages of bestsellers and the silver screen… They're searching for you. And they're hungry. Every culture and country has its demons-and since earliest times we've tried to capture these supernatural predators through the power of storytelling. But they refuse to be tamed…
Join Bram Stoker Award winners Jonathan Maberry and David F. Kramer on a chilling journey into the nature of the beast. This compendium of creepy creatures tracks the monsters of our imagination from the whispered fireside tales of old to the books, comics, and films that keep us shivering on the edges of our seats with delight and fascination.
Biting commentaries by the modern masters of the macabre – John Carpenter, Peter Straub, Jack Ketchum, Holly Black, Kevin J. Anderson, Ray Garton, Ramsey Campbell, Christopher Golden, Kelley Armstrong, Simon Clark, Herschell Gordon Lewis, and dozens of others-help make this the ultimate guidebook to the horrific roots and modern-day expressions of our darkest fears. With over 90 BW and color illustrations by leading artists of the supernatural.
Click here to buy THEY BITE! from your local Indie.

Paperback: 320 pages
Publisher: Citadel (August 25, 2009)
ISBN-10: 0806528206
ISBN-13: 978-0806528205
Zombie CSU: The Forensics of the Living Dead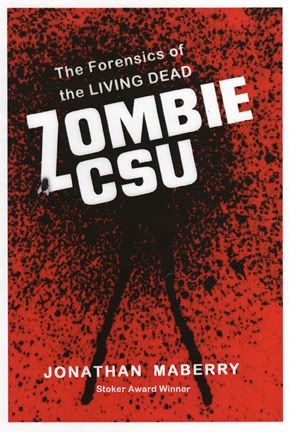 In the tradition of bestsellers WORLD WAR Z and THE ZOMBIE SURVIVAL GUIDE, multiple Bram Stoker Award-winner JONATHAN MABERRY presents an irresistible, fully illustrated and fascinating guide to the forensic science of the walking dead.
Winner of the Zombie Research Society's 2008 Heinzman Award in Science, ZOMBIE CSU includes over 250 interviews with real-world experts in LAW ENFORCEMENT, FORENSIC SCIENCE, MEDICINE, THE LAW, PSYCHOLOGY, THE MILITARY and PHILOSOPHY to present the first ever look at how our real world would react, research and respond to a zombie uprising.
Follow the case from the crime scene of the first zombie attack; collect evidence with the experts; go on a manhunt with the police; stand shoulder-to-shoulder with SWAT; go into the labs and morgue with top scientists; hunt the story with journalists; kick some undead ass with martial arts experts; and philosophize with psychologists and even the clergy! ZOMBIE CSU taps experts from 911 operators to directors at Homeland Security.
A MUST HAVE BOOK FOR ANYONE WHO LOVES ZOMBIES!
Featuring interviews with:

MAX BROOKS ** BRIAN KEENE ** DAVID WELLINGTON ** TONY TODD ** PATRICIA TALLMAN ** RAMSEY CAMPBELL ** JOHN SKIPP ** GARY A. BRAUNBECK ** ROBERT KIRKMAN ** BOB FINGERMAN ** BRUCE 'ANDY' BOHNE ** JAMES GUNN ** MICHAEL 'CJ' KELLY ** BRINKE STEVENS ** KEVIN J. ANDERSON ** STEVE ALTEN ** KIM PAFFENROTH ** DOUG CLEGG ** ELLEN DATLOW ** STEPHEN SUSCO **JAMIE RUSSELL ** JOHN LUTZ ** JOHN PASSARELLA ** SARAH LANGAN ** KATHERINE RAMSLAND ** L A BANKS ** ZOMBIE SQUAD ** MORT CASTLE ** DAVID MOODY ** SCOTT A. JOHNSON ** YVONNE NAVARRAO ** SCOTT NICHOLSON ** TIM WAGGONER ** TONY TIMPONE
And Dozens of Others!
Eye-popping artwork from top artists of the genre!
THE CRYPTOPEDIA:
A Dictionary of the Weird, Strange, and Downright Bizarre
by
Jonathan Maberry and David F. Kramer
WINNER OF THE BRAM STOKER AWARD FOR BEST NONFICTION
Citadel Press / Trade Paperback / 320 Pages
ISBN-10: 0806528192 / ISBN-13: 978-0806528199

At the edge of the known world, demons, monsters, and baffling phenomena abound. To help you navigate this mystery-shrouded realm where the supernatural mingles with the paranormal, fright-guides Jonathan Maberry and David Kramer present their indispensable follow-up to Vampire Universe.
Witty and comprehensive, The Cryptopedia divides the otherworldly into chapters that explain the inexplicable, from angels to poltergeists to UFOs and more. Leaving no Philosopher's Stone unturned, the authors decode occult symbols, demystify the art of fortune-telling, and discuss the myriad strange and bizarre forces at work in the universe. Illustrated throughout, this is an invaluable guide to the Larger World.
Don't leave this plane of existence without it.
VAMPIRE UNIVERSE:
The Dark World of Supernatural Beings That Haunt Us, Hunt Us and Hunger for Us
Citadel Press / Trade Paperback / 320 Pages
ISBN-10: 0806528133 / ISBN-13: 978-0806528137

They invade your nightmares and haunt your sleepless waking hours. They are the Nosferatu, the werewolves, the demons, and the living dead that wait in the dark.
Frightmaster Jonathan Maberry presents the creatures of your worst fears, including centuries-old monstrosities from folklore and myth, and more recent atrocities torn right from today's headlines.
These are not only the traditional vampire predators but also the evil sprites, demons, pernicious ghosts, beastmen, hellhounds, and lake monsters that yearn for human flesh.
This is a thrilling, chilling foray into the creepy, the horrifying, and the bloodcurdling. And this time—they're here for you.
Fully illustrated including 8 pages of gorgeous (and unnerving) color art.
WANTED UNDEAD OR ALIVE:
Vampire Hunters and Other Kick-Ass Enemies of Evil
By
Jonathan Maberry and Janice Gable Bashman (http://janicegablebashman.com/?page_id=12/)
Citadel Press / Trade Paperback / 320 Pages
ISBN-10: 0806528133 / ISBN-13: 978-0806528137

These days you can't swing an undead lycanthrope without hitting a Minion of Evil. They're everywhere—TV, film, the basement…right behind you! It's never been more important to know what you can do to keep them at bay. Garlic? silver bullets? holy water? torch-wielding mob?

From today's foremost experts on nightmares-come-to-life, this indispensible guide identifies and describes mankind's enemies—supernatural beasts, ghosts, vampires, serial killers, etc.—and unearths effective time-proven responses to each horrific threat.
Separate fact from fiction, the deadly from the merely creepy.


Learn when to stand your ground and when to run screaming for your life.
Determine which monster-specific heroes to call and their likelihood of success.
Consider your own potential as a Champion for Good, Conqueror of the Damned.


Whether we're talking ancient vampire hunters or modern-day FBI profilers, it's good to know someone's got your back in the eternal struggle between Good and Evil. And this book, with over fifty illustrations, as well as commentary from luminaries like filmmaker John Carpenter, author Peter Straub, and the legendary Stan Lee, provides all the information and reassurance you need to sleep soundly at night. Just not too soundly.
Fully illustrated including 8 pages of gorgeous color art.
Comments Closed