REGIONAL MYSTERIES AND THRILLERS
Some of today's most compelling novels are those set in very specific parts of the country, written so that the personality of the locale becomes like a character in the book.  I had a group chat about this genre with some of today's finest authors of regional mysteries and thrillers  -Steve Hamilton, William Kent Krueger, David Housewright, JD Rhoades and Earl Emerson.
MABERRY: With regional mysteries the 'location' is often as important as the characters.  How do you integrate this into your writing?
STEVE HAMILTON: Well, it's almost a cliché to say that the setting is "a character in itself," but that doesn't make it any less true.  With the McKnight series, I wanted to have this totally unique place – the Upper Peninsula of Michigan – play a big part in the story.  And beyond that even, for the place itself to reflect a state of mind that fits in with the main character.  (The loneliest place I know, for a very lonely man.)
WILLIAM KENT KRUEGER:  When I teach writing, I teach setting before character, because I think character, to a large degree, rises out of setting.  I also think setting contributes significantly to plot and to motive.  Things that happen in a story happen because of the kind of place the story is set.  Remember the last line in that great movie CHINATOWN?  "Forget it, Jake.  It's just Chinatown."  Setting ought not to be a travelogue, but instead a judicious choice of detail that suggests the nature of the larger whole.  It ought to be parsed so that it never interrupts the pace of the story.  And it absolutely has to be accurate.  I try to think of setting the same way I'd think of any character in the book.  Setting has physical characteristics, voice, personality, culture.  When setting is done well, it's one of the most intriguing elements of a novel.
DAVID HOUSEWRIGHT:  By continually reminding myself who the characters are and where they are from.  There is an old saying – if you were from where they are from and you were taught what they are taught, then you would believe what they believe.  They same is true with my stories.  Nothing happens in my novels that could not happen in Minnesota.  For example, there are no organized crime families here, so there are no organized crime families in my books.  The characters behave the way people in Minnesota behave.  They speak "Minnesotan" in the same way that the characters in James Lee Burke's novels speak with the dialects and slang of Louisiana.  Also, I never invent settings.  Every location in my books, every street corner, every neighborhood, every bar, actually exists – I can take you to them (although I do on occasion change the names and addresses for purposes of plot).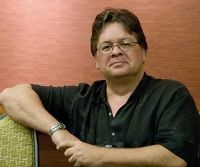 JD RHOADES: Most of the time it comes naturally. When I'm imagining a scene, what pops up in my head is either a place I have a visual memory of,  or more often,  a mash-up of a number of places. For instance, the layout of Tony Wolf's farmhouse in BREAKING
COVER is a that of a house in the country where  a friend of mine used to live, but I moved it to  the top of a local hill. Likewise, the town of Pine Lake incorporates features of two small towns near were I live. I put one town's lake (and the history pertaining to it) at the edge of the other town, then  threw in a campground from a third place and a little mom and pop hotel from a place I stayed in in the mountains.  Voila! Pine Lake.
EARL EMERSON: For the Thomas Black series, titles have always been important. THE RAINY CITY and THE PORTLAND LAUGHER. These bring the region to mind and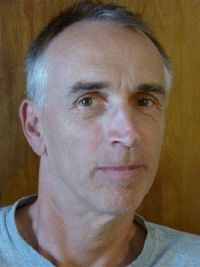 coincidentally give the art department something to work with, too. It is amazing how much local color can be brought up with just a few street names. Different parts of the country tend to use different types of names. In our area we have Seattle, Snoqualmie, Issaquah, Snohomish, Tacoma — all Native American names. When I write I need to feel the place and the setting. Thomas Black roams Seattle and environs because that's where I live and work and it's easiest for me. It doesn't hurt that the city gives plenty of opportunities for interesting backdrops, too. In DEVIANT BEHAVIOR I used an old, underground, now-sealed-over, tunnel running from one basement in the International District to another. I discovered these sealed-over tunnels while inspecting in my day job as a Seattle firefighter. At one time they'd been used as escape pathways when the police raided gambling dens in Chinatown.   In FAT TUESDAY, the climactic chase scene ended in the stairwell of the Space Needle. The art department at Ballantine was able to use this to good effect by putting a picture of the Space Needle on the front of the book.
MABERRY: When writing several books set in the same area, what do you look for to keep the sense of place fresh and engaging?
STEVE HAMILTON: I've actually found myself sort of going back and forth with the setting, meaning that if one book is really anchored there, then maybe in the next one I'll have the action move somewhere else (downstate to Detroit, say, or across the bridge into Canada).  But at the end of the day, he always comes back home.
WILLIAM KENT KRUEGER:  Readers of my series expect certain common elements. 
They seem never to tire of being taken into the deep woods, or to stand on a lake at sunset, or to be enveloped in the smell of a campfire.  So some things I stick with.  But also try to take the reader to some different places.  I don't just set my books in the great north woods of Minnesota.  I've used the north shore of Minnesota and Lake Superior, the Upper Peninsula of Michigan, the vast wilderness of Ontario, and most recently, the rugged Rocky Mountains of Wyoming.  If you evoke a setting well, point readers' senses toward unique aspects of a place, you don't have to worry about the sense of place getting old or losing its appeal.
DAVID HOUSEWRIGHT: I never assume I know everything about Minnesota in general and the Twin Cities in particular just because I've lived here for fifty years.  I keep doing the research and I keep asking the questions and since what I learn is fresh and new to me, I'm sure it will seem fresh and new to my readers.
JD RHOADES: The setting of the Keller books is spread out across Southeastern North Carolina, so there are a lot of different settings: cities, suburbs, small towns, country churches, upscale developments, movie studios, beach towns, etc. So providing fresh settings isn't  really a problem. In fact, the variety of the settings you can find in my state  is one of the things I wanted to get across. The third book goes even farther afield, into the mountains of Western North Carolina, so there's  even more variety there.   I don't know that there'll be another book set in Pine Lake. BREAKING COVER was conceived and written as a standalone. If I set more books there,  there's a distinct risk of Cabot Cove Syndrome: a loss of believability caused by more killings happening in the same small town than one would reasonably find credible.
EARL EMERSON: I do my best to move each book to slightly different locations. It helps that I know the area really well and it helps even further that I'm easily bored, so I really don't want to be writing about the same  locations in every story. Seattle,
fortunately for those of us who write about it, has mountains, lakes and the Puget Sound all within spitting distance, so, for example, when I wanted to place Black at a small lake where a dead woman would be found just under the surface of the water, there were plenty of nearby mountain lakes to choose from. When I began writing thrillers about the fire department in 2000 it occurred to me that, in a five-state area, Seattle is the largest fire department and the only one with a significant number of high-rises. I took advantage of that in Vertical Burn, where I wrote about a deliberately set fire in a 78-story skyscraper. This wouldn't have been possible had I been writing from Spokane, Yakima, or any of the other outlying cities. Nor could I have set this in a small town in Nebraska. In order to research this, I took part in a full-gear charity run up 69 stories while breathing through our self-contained breathing apparatus. It was the hardest physical feat I've ever done and certainly gave me a taste of what my characters were going to go through.
MABERRY: Did you choose to write about this location because it's where you were raised or because it's a place you encountered later on?
STEVE HAMILTON: I grew up around Detroit, but the U.P. is a place we'd go almost every summer.  It didn't take long for me to recognize that it's a whole different world up there.  There's really nowhere else quite like it.
WILLIAM KENT KRUEGER:  I'm not native to Minnesota.  I didn't move here until I was almost thirty years old.  And before that I was kind of a gypsy kid, with no place I called home.  But when I moved to Minnesota, it felt to me as if I'd found home.  And then I discovered the phenomenal geography and cultures of northern Minnesota, and fell even more in the love.  Writers of fiction are always on the lookout for conflict, because conflict drives great stories.  When I took a good look at the northwoods and the Iron Range of Minnesota, all I saw was conflict.  Conflict of cultures.  Conflict in the marvelously rugged and isolated landscape.  Conflict in the weather.  From the very first time I traveled "up north," as we say, I knew that someday I would write about that area, write in a way that paid homage to this adopted home of mine.
DAVID HOUSEWRIGHT: A little bit of both.  We all tend to write about what we're familiar with, but since I started writing the books, I've learned an astonishing amount about the Twin Cities that I didn't and probably never would have known if I hadn't done the research.
JD RHOADES: The Jack Keller books take place in and around Fayetteville and Wilmington, North Carolina.  Fayetteville is close to where I grew up. It's the home of a
huge military base, Fort Bragg, and in the days of my misspent youth back in the 70′s, it was where we'd go when we really wanted to walk on the wild side. They've cleaned up the downtown area since then, and the strip bars have turned into "gentlemen's clubs" , but in my mind it's still a hardboiled city, one I've always associated with neon glowing fuzzily  through the haze of  a steamy summer midnight after a storm blows through. And with sin. Oh, yes,  definitely with sin. This, I suppose, is why I don't get invited to speak at  the town's Dogwood Festival.
Wilmington is a town I lived in for a couple of years and fell in love with.
As I mentioned before, Tony Wolf's Pine Lake is a town very much like the ones near where  I grew up, and the town where I live now. It's peaceful, quiet–a refuge. But people have their secrets, and occasionally some pretty horrific violence erupts.
EARL EMERSON: I was born and raised in the Pacific Northwest.  I've always been a lazy writer in terms of research, inclined to writing about what I already knew a lot about, so using settings I was familiar with has always been my first choice. In fact, after twenty-one novels, I have yet to place one in a setting other than the Northwest.
MABERRY: Could the story have been told as well in another setting?  (If not, what is it about the setting that made the story work best where you set it?)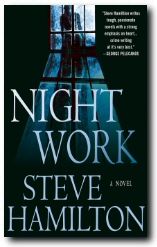 STEVE HAMILTON: I guess it could have, but again, going back to that essential loneliness, and the desolate beauty of the place.  And above all, having Lake Superior in the background – the most cold-hearted of killers.  I just can't see Alex sitting in a cabin on the shores of Lake Tahoe instead.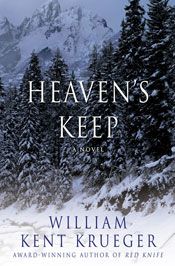 WILLIAM KENT KRUEGER:  As I said earlier, I think that, to a large degree, plot rises out of place.  Things happen because of place.  The nature of the conflicts that drive the story is often shaped by place.  Think of Gone with the Wind.  Couldn't have happened in Columbus, Ohio.  But the actual question—Could the story have been told as well in another setting?—is really a question of craft.  And probably the answer is that the same elements could be used in a different setting and, if handled artfully, would create a compelling narrative.
DAVID HOUSEWRIGHT: Nearly all of my books could be told in a different location, but not in the same way and not by the same characters.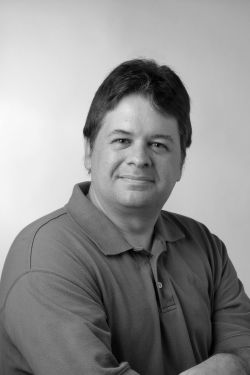 JD RHOADES: Pine Lake is integral to BREAKING COVER, because,  in part, it's about city sins brought to a rural setting. Tim Buckthorn, the deputy sheriff who's trying to stem the tide, does what he does because he loves the place and its people. I suppose you could tell a similar story in a city neighborhood, but not the same story by any means.  The Keller books are sort of like Westerns. Keller's like a gunfighter with a troubled past. So you could put a similar story in another setting more easily
EARL EMERSON: For my fire department thrillers, it helps to live and work for a big-city fire department. I know the politics, infighting and history of this department and can transfer that to my novels. I'm always intrigued when firefighters from other jurisdictions write me and ask how my chiefs and drivers and firefighters could be so similar to the odd-duck characters in their own fire departments; it's almost as if, they often tell me, I've researched their own department. There are only so many "types"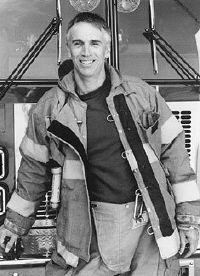 and fitting them into a paramilitary organization such as a fire department tends to bring out the peculiarities of each type.   Oddly, I believe in the Northwest, which is a very literate community and also very supportive of local artists, it was, for a number of years, important for local authors to set our books here. People wanted to read about the area they knew and lived in and local distributors were very cognizant of that fact and promoted the hell out of local authors. Now that the three hundred or so distributors of paperbacks have dwindled down to less than ten nationwide and all distribution is done on a National level, this is not so important. It's an instance where big business has accidentally dictated the death of a trend. People still write about the Northwest, but I don't believe it is anything like the selling handle it was fifteen or twenty years ago when say, my Thomas Black novel, Fat Tuesday, came out.
MABERRY: What's the balance between regional elements you added for 'local color' and those elements that contributed to the inspiration or development of the story?
STEVE HAMILTON: I never even thought about it that way.  I mean, if the story's working, every little thing adds to it, you know?  The lake, the cold weather, the casinos…  It all fits in.
WILLIAM KENT KRUEGER:  If you expect the reader to buy fully into the fiction you create, you have to nail the place with accurate details.  I spend a lot of time on the details of each scene, as well as the larger backdrop of the whole story.  Sometimes the details are specific to the unique nature of the north country of Minnesota; sometimes they're specific to a more familiar kind of place within the north country, a diner or a bar, for example.  The balance is simply in not overloading the prose with too much obtrusive information about the place.
DAVID HOUSEWRIGHT: I do not use locations just to use them, nor do I add color just because I find it interesting.  My rule is simple – if it doesn't move the story along or reveal something significant about the major character, I cut it out.
JD RHOADES: Interesting question. Most of the time, I'm thinking of what happens next in the story, thinking about where this would happen, and a setting occurs to  me. There's a conversation between Keller and a military cop in SAFE AND SOUND that takes place in one of my favorite Chinese restaurants.  I knew they were going to meet a restaurant in Fayetteville, and I thought "why not China Station?" The place is gone now, which is a damn shame. They made a mean Chicken Cantonese. But I'll admit  there are a couple of settings I put in deliberately for local color. One was the Blue Ridge Parkway in SAFE AND SOUND, another was the hog plant in GOOD DAY IN HELL. With that second one, I really wanted to express how bizarre these things look rising up like metal mountains out of the flat farmland of Eastern North Carolina. They're freakishly huge, like those buildings where they put moon rockets together.
EARL EMERSON: A good story is a good story no matter where it originates. I try to tell a story first and use the local color second, but only if it adds to the verisimilitude of the story.
MABERRY: What's your favorite bit of local lore that you've included in your books?
STEVE HAMILTON: My favorite thing has been learning about the history of this part of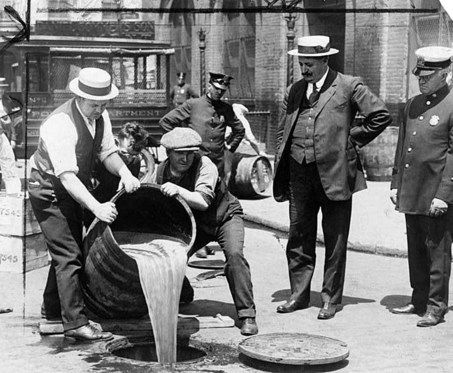 the country – how a seemingly sleepy little town like Sault Ste. Marie could have been such a wild place during the Prohibition.  (Most of the illegal liquor came into the country over the Michigan/Ontario border.)  And then later how important it was during World War II.  Believe it or not, it was probably the most heavily-defended area in America.  (Just think of all that iron ore coming through the locks to build tanks and airplanes.)  But of course you have to go across Whitefish Bay to get to Alex's place.  It's in an even smaller town – really just one intersection with a blinking light.  A few years ago, they got six feet snow of one day, and yet they still call it "Paradise."  That probably says everything you need to know about the people who live there.
WILLIAM KENT KRUEGER:  I use the story of the Windigo a lot.  This is an Ojibwe myth that pervades the North Country and the Great Lakes region.  The Windigo is a cannibal giant with a heart of ice.  When you think about the kind of books I write in which people sometimes do pretty monstrous things, it's a great image to employ.
DAVID HOUSEWRIGHT: In my current novel, JELLY'S GOLD, I spend a great deal of time
exploring St. Paul of the 1930′s when criminals such as John Dillinger lived here.  Originally, I wanted only to talk about the notorious bank robber Frank "Jelly" Nash and how me might have hidden 32 bars of gold bullion somewhere in the city before he was infamously killed during the Kansas City Massacre of 1933.  Only, the more research I did, the more fascinated I became with the O'Connor System – named after Chief of Police John O'Connor – which allowed criminals to live here without fear of prosecution as long as they did not commit a crime within the city limits.  More than that, I was intrigued by the social structure that allowed the system to exist for 35 years.  As a result, I ended up telling two stories in the course of the novel – one that dealt with the modern-day treasure hunters and a second about the people who lived in St. Paul during this period and how they co-existed with these celebrity bandits.
JD RHOADES: Raymond Oxendine, the antagonist guy in THE DEVIL'S RIGHT HAND, sees himself as a spiritual descendant of Henry Berry Lowrie. To the Lumbee Indians of Southeastern North Carolina,  Lowrie is Jesse James, Robin Hood, and the Scarlet Pimpernel rolled into one. He fought the Confederate Home Guard during the Civil War, after they murdered his father and brother. After the war, he took on both the KKK (who cared for Indians even less than they did for black people) and the Republican governor of the State, who declared Lowrie and his gang outlaws in 1869. Lowrie responded by robbing the Sheriff's office, stealing 28 thousand dollars, and disappearing. Despite the large reward placed on his head, Lowrie was never captured or killed, and no one knows how he died. Lowrie, you've got to admit, was one bad-ass mofo. Raymond, on the other hand, is a drug-dealing thug. Not that he doesn't have a legitimate grievance.
EARL EMERSON: I like the fire department argot that stems from history. Our calls are called "runs", which stems from the time when horses pulled fire wagons and only ran when they had an alarm. Our fire garages are called "barns" because they used to house the horses. Our boots are called "bunking boots," because when we climb out of our bunks after lights out, they are what we step into. There's more, but I'll let readers find them for themselves.
- JM
Comments Closed
One Response to REGIONAL MYSTERIES AND THRILLERS