Voices You Will Be Hearing: Keith Strunk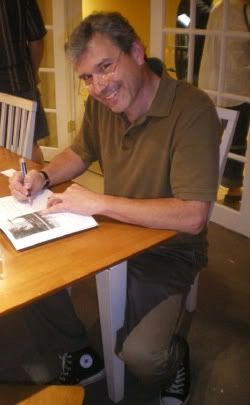 Keith Strunk is an actor, teacher and author.  After receiving his BA in English from Ursinus College, he taught high school English for a year and then went on to attend Rutgers University's Mason Gross School of the Arts Professional Training Program in Acting, receiving his MFA in Acting.  After graduate school, Keith went on to teach college, work in film and video production in NYC, work as an actor in commercials, independent film, and stage, and co-founded River Union Stage with Laura Swanson in 2002.  He is also a partner in Interlude Group, LLC, a corporate training company and author of PRALLSVILLE MILLS AND STOCKTON of the Arcadia Publishing Images of America series.  He is the proud father of two and resides in Frenchtown, NJ with Laura.
Right now Keith is shopping around his first children's picture book, FF MANNY THING AND ME.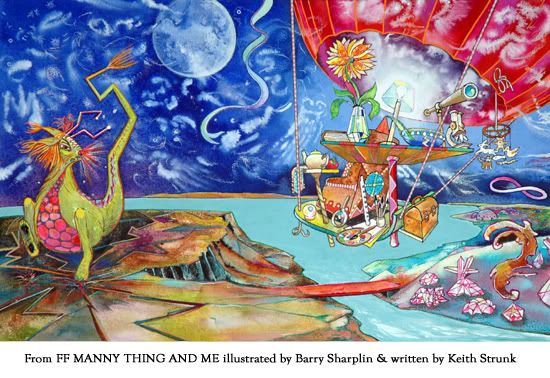 Keith and I chatted about his writing and FF Manny Thing.  Following the interview is a pdf of a small section of the story, along with some gorgeous artwork by professional artist, Barry Sharplin, Keith's partner for this delightful project.
JONATHAN MABERRY:  You're a writer, director, corporate training, historian…and now children's book author?  How does all of that come together in one person?
KEITH STRUNK:  I'm a storyteller.  Ever since I was a kid, I've enjoyed telling stories complete with all the character voices and movements.  Bringing the words of the story to life has always been a very joyful experience for me.  It's actually not all that surprising that I eventually went to school to be an actor.  My actor's training and penchant for a good story is the thread that runs through all my professional work and personal life as well.  My two kids grew up with a very lively story time before bed each night.  "Frog and Toad," Shel Silverstein, and Dr. Seuss were among the favorites.  My kids are in their twenties now and they can still imitate many of the voices I used, including Frog and Toad.
A good story pulls us out of our day-to-day existence and expands our capacity to enjoy and understand our humanity.  Stories are invaluable to writers, directors, teachers, and even historians in defining their specific part of the world.  History, for example, is best understood not through dates and timelines but rather through the stories of the people that made history.  And the truth is, a well-told story is just a lot of fun.  Fact, fiction, fanciful fabrication, or a mixture of all three – I love a good story.
MABERRY:  Tell us about the children's picture book you're shopping round.
STRUNK:  The book is FF MANNY THING AND ME and it grew from "coffee poems" that I like to write in the early morning and leave next to the coffee pot for Laura to find when she gets up.  During the course of writing them I'd created this character named Furrowed Frowning Manny Thing or "FF Manny Thing" for short.  He'd stomp around making blustery proclamations about things like dreams or kites and I found myself taken with him and wanted to write more about him.  FF Manny Thing springs from that little piece of ourselves that reacts through fear and frustration and getting angry at the things we can't control.
Of course, if I just had FF Manny Thing stomping around, it wouldn't make a very interesting story.  So, I created a character that remains unseen by the reader and responds to FF Manny Thing's grumbling and stomping.  This character is the "Me" of the title and is friends with FF Manny Thing.  The "Me character" sees the good in most any situation and is a perfect foil to FF Manny Thing's blustery perspective.  Because the "Me character" is never fully seen, the reader is free to create their own vision of the character in their imagination.  Boy or girl, young or old, the "Me character" is as open as a child's imagination.
And so the book follows these two characters around as we explore the colorful and sweetly strange world they inhabit.  The book is broken into four separate stand-alone stories that build upon each other and expand the relationship between FF Manny Thing, the "Me character, and the world around them.
MABERRY:  You've done a number of live readings of the book to groups of kids.  Talk about that.
STRUNK:  Reading and sharing FF MANNY THING AND ME with kids is truly the best part of having written it.  I remember that Barry Sharplin was teaching art classes to kids during the time we were working together on the illustrations.  The kids would watch the weekly progress of the paintings and I had read the story to them so they could follow his progress.  One day, one of the fathers picking up his children from class pointed to the painting of FF Manny Thing and asked, "Who's that?"  His five-year-old daughter immediately and with great authority said, "That's FF Manny Thing," and proceeded to tell her father the story in very animated terms.  At that moment, I realized that FF Manny Thing belonged to her and would grow and flourish in her imagination.  That was a very cool moment for me as a writer and one I'll never forget.
I see that process happen again and again as I read FF MANNY THING AND ME to groups of kids.  As I read the book, we pause often as the kids ask questions about the story or point at different things in the illustrations.  Sometimes we pause to talk about the different words and what they mean.  It's a very dynamic and interactive storytelling session.  I find that it really appeals to kids from pre-school all the way through fourth and even some fifth grade kids.  They seem to understand FF Manny Thing on an intuitive level and aren't shy about sharing their observations and take on the story.  They have fun with it and it's fun to read out loud.
MABERRY:Â  What kind of reaction have you gotten from parents?
STRUNK:  Like the kids, they're taken in by the pictures, the words, and the story itself.  I usually have a number of parents talk to me after the readings about their perspective on the themes of the book or commenting on how the piece flows.  Most like the use of vocabulary and the variety of words used to tell the story.  When my kids were little they would often stop me as I was reading to ask what a word meant.  It struck me that this was an important process in developing their vocabulary so I made sure there are words in FF MANNY THING AND ME that will pique the kids' interest and provide an opportunity for the parent to explore the meaning of the words with their kids.  I've had a number of teachers query me about the book because they see real learning potential in the book and want to use it in their classrooms.  Most all of the adults want to know when the book is coming out and where they can get a copy.
MABERRY:Â  Who illustrated the book?
STRUNK:Â  The book is illustrated by Barry
Sharplin.  He's a professional artist and art teacher with a long and varied career that starts in New Zealand.  He was born and raised in New Zealand and received his art schooling there when he was in his twenties.  He's had a passion for art since he was eight years old and after an active career in New Zealand moved to the U.S. in 1992.  His work encompasses a wide range of artistic expressive techniques.  He's been a theatrical set designer, and an art teacher for pre-school age through adult.  He has a wonderful knack for helping people unfold and develop their creative abilities and talents.  I've worked with him on a number of projects and he's very collaborative in his approach.
Working with Barry to illustrate FF MANNY THING AND ME was an in-depth process of integrating the words and art into the final piece.  We started with FF Manny Thing himself and his appearance in the book evolved as the illustrations were drawn.  My only requirement was that the "Me character" should remain mostly unseen – beyond that, we had an open canvas on which to create FF Manny Thing and his world.  Barry created the illustrations using pen and ink, watercolor, and gouache.  I found it necessary during the process to alter the text based on what the illustrations showed me as they evolved.  Conversely, the illustrations had to be altered at times as we discovered better visuals to support the themes of the story.  It was a very collaborative and joyful process.
MABERRY:  Why is this book going to capture the imaginations of today's kids?
STRUNK:  Kids respond well to the pictures, the playfulness of the words, and the story itself.  But in then end, I think it's the universal appeal of FF Manny Thing himself that captures their imaginations.  Kids, and for that matter adults, live in a world where so many things are out of their control and they sometimes get frustrated with those things.  FF Manny Thing is that blustery, sometimes frustrated, sometimes fear driven part of ourselves that rails at the things we can't control.  We identify with his frustration and find comfort as the "Me character" opens up FF Manny Thing's eyes to an alternate, and ultimately, more expansive perspective on things.  It's fun to watch the younger kids reach out to touch the illustrations of FF Manny Thing.  They want to connect with FF Manny Thing because on some level they recognize him.
MABERRY:  You've read the story at several LIARS CLUB events.  Will you continue that?
STRUNK:  Yes, I'll be doing readings of FF MANNY THING AND ME at the stops along the "Liars Club Truth Tour" of independent bookstores.  We'll be at Between Books in Claymont, DE on July 25 from 3-5 PM.  On august 14, we'll be at Aaron's Books in Lititz, PA from 6-8 PM and on November 7, we'll be at Womrath's Bookstore in Tenefly, NJ from 12 Noon to 3 PM.
MABERRY:  You've done some innovative work with kids in schools.  Tell us about some of your projects.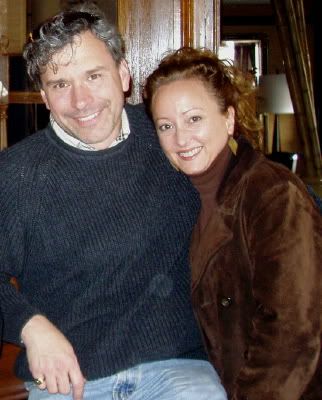 STRUNK:  Laura and I founded River Union Stage in January of 2002.  It's a professional Equity theatre with an outreach program that reaches over 700 students in four different schools.  All of our programs are designed to involve the students in various aspects of theatre from writing, to performing, to filmmaking.  This year we saw fourth and fifth graders doing Shakespeare (the actual text not a simplified version), adaptations of books they've read in class, an original piece based on the poem "Jabberwocky," and a student playwriting festival.  In the playwriting festival, students wrote their own adaptations of myths, legends, and short stories which we then developed through workshop sessions and staged readings.  The program culminated in a fully realized public
performance of their work.  The year before, we produced a short film entitled "Mr. Whitman's Poetry Lesson" with 26 middle school students from the same school.
MABERRY:  If this children's book takes off, will you have other FF Manny Thing stories to tell?
STRUNK:  Oh, yes.  Now that we've met FF Manny Thing and the "Me character" in the first book, and the Manny Thing world has been established, I want to expand their adventures to other places beyond FF Manny Thing's world.  In the second book, FF Manny Thing and Me set off to find a "fierce creature" that all the other Manny Things fear but, oddly enough, have never seen.  Of course, they provide wild descriptions of this "fierce creature" that FF Manny Thing eventually discovers are not quite accurate.  This gives Barry and me the opportunity to create all sorts of interesting creatures and places to be further explored and built upon in stories to come.
MABERRY:  Give us an intro to the sample we're going to read.
STRUNK:  "Kites" is the second story in FF MANNY THING AND ME.  We've met FF Manny Thing in the first story and the foundation of his relationship with the "Me character" is established.  In "Kites," we see how fear keeps FF Manny Thing from fully enjoying what he's created in his kite.  Thematically, the kite reappears in a later story to reinforce what FF Manny Thing learns here.
Click to download an excerpt of FF MANNY THING AND ME
FIND KEITH ONLINE:
Contact Keith at keith@desiderata.biz

Comments Closed
13 Responses to Voices You Will Be Hearing: Keith Strunk