A Conversation with Laurell K. Hamilton
Laurell K. Hamilton is the International Best-selling author of the Anita Blake Vampire Hunter series and the Merry Gentry series.  She took a break from her insane writing schedule to chat with me for the Big Scary Blog.
JONATHAN MABERRY: Most books can be labeled under several different genre/subgenre.  How would you classify your books?
LAURELL K. HAMILTON: It's whatever the spine of the books says it is. The early paperbacks said, "Fantasy." So I guess I was Dark Fantasy. After that the spine read, "National Bestselling Author." Then it said, "New York Times Bestselling Author." Now the spine says, "#1 New York Times Bestselling Author." The spine also has a emblem that says, "An Anita Blake Vampire Hunter Novel." Maybe that's what they mean when they say an author has transcended genre, simply that she's gone from a generic genre to all this.
MABERRY: What separates Dark Fantasy from Urban Fantasy?
HAMILTON: I have no idea. Once upon a time I thought Dark Fantasy was more horror oriented and less mystery, and that Urban Fantasy was the stronger mystery books with dark fantasy elements. Now, I hardly hear either label used. Paranormal Mystery, or Paranormal Romance, or even Paranormal Thriller, is more common when editors are discussing books around me.
MABERRY: What makes a scene come alive for you as you write it?
HAMILTON: Strong emotion, violence, sex, sorrow, anything that really speaks to me strongly. For a scene to be vivid to me I need emotion in me. For a scene to be alive to the reader I need that, and sensory details to help the reader touch, taste, smell, hear it. If a scene is not alive on paper I will begin again with more sensory detail adding until it works.
MABERRY: You juggle complex mythologies in different series.  What's your method for keeping everything straight?
HAMILTON: Sticky notes. No, really. I have an entire wall devoted to sticky notes. Half of the wall is for the Meredith Gentry series, and the other half is for Anita Blake. I actually try to color code so that at a glance I can tell what series each sticky note belongs to. This falls apart when I have an urgent idea and grab the first color I touch so I don't lose the idea, but generally the color coding helps me "see" where everything belongs. For the rest, research books are my friends. I have a fairly good library on Celtic myth, legend, folklore, archeology, and history. I have another section devoted to vampires, ghosts, voodoo, natural history books on the animals that my characters shapeshift into, and various other useful topics. When in doubt, I check my facts.
MABERRY: You do a lot of research, but you also tweak the model a bit.  Talk about that.
HAMILTON: I've been told by more than one editor that I do more research for my fiction than most do for the nonfiction. I find that fiction, especially fantastic fiction of any genre demands more attention to real world details so that the reader's suspicion of disbelief stretches far enough to cover your entire story. Example: I researched real wolves for my werewolves. The book most recommended to me most by biologists was "The Wolf" by L. David Mech. Another book I found very useful was "Of wolves and Men" by Barry Holstun Lopez. When I felt I had a handle of real wolves, then I wanted to work on werewolf society. How would it change wolves to think like people, at least part of the time? I turned to Norse and Greek myth for my two main branches of werewolf society. Wolves are more prominent in Norse myth, but Greek has some interesting mentions, too. I also spoke to people who study wolves for a living, or for a very dedicated hobby. When I had all my information in hand, and head, I mixed it all together in that alchemy that is my imagination and out came my werewolves. I have had biologists that specialize in them complement me on my research. There's no higher praise for a fiction writer than when the experts on a subject say, good job. You can break the rules, but first you have to know what the rules are, and only then can you break them. I knew enough about real wolves to take them into fiction and have people who would know be happy with it.
MABERRY: Publishing has been as hard hit as other industries by the economic tsunami.
HAMILTON: What keeps them afloat is the bestsellers. It is a hard reality, but true that when an author reaches a certain point the fact of them bringing out a book in a given year can make the difference between black ink and red at the end of the publisher's year. This year is rumored to be the harshest in publishing history, so they all want their bestsellers to deliver that book. The genre that I helped pioneer, Paranormal Thriller/Romance, is still growing and selling well. This is not true of almost any other genre right now.
MABERRY: What's going to keep the book business afloat?
HAMILTON: Every idea has had a unique process. I got one short story idea from taking out the trash in my first apartment here in Missouri. There were geese sleeping by the lake as twilight fell. I had the first sentence by the time I went inside and wrote the story, "Geese", in one marathon session. Pure inspiration has never hit like that again, until the book, MICAH. That was the only book that talked so loudly in my head that it made me have to put aside the current book to write the story down, and only then could I get back to the book I was writing. I believe it was DANSE MACABRE. Most books start out with a scene in my head that intrigues me and I build the book to make that scene possible. Often, I find that the inspiring scene never makes it into the book. My first novel NIGHTSEER was like that. Frustration will inspire me. Anita Blake came out of the double standards in the hard-boiled detective series where the men got to cuss, kill people, and have sex. The female detectives rarely cussed, rarely killed people and if they did they had to feel really bad about it, and sex was either absent or sanitized off stage.
MABERRY: What's your process from "Hey, I have an idea!" to "I just sent my manuscript to my editor!"
HAMILTON: Meredith Gentry grew out of a frustration with other people's books about the fey. I wanted to do a grown-up series that showed the parts everyone else seemed to miss. I've had a story inspired by a music video, a bit of poetry, birds, animals, a walk in a lonely park. Ideas are everywhere for me. How I get them written is that I write. I write five to six, or even seven days a week when I'm doing a novel. I used to average about 50 hours a week, now I'm trying to be more reasonable with myself. Forty hours a week should be plenty.
MABERRY: Talk about your current book.
HAMILTON: If you mean SKIN TRADE which comes out next week, then it's the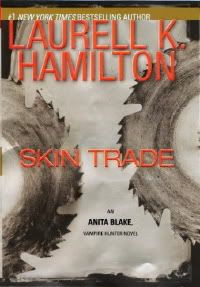 hero's tale. Anita Blake is mailed a decapitated human head in a box. There's a note from the killer inviting her to come to Las Vegas and hunt him. He's a vampire, and a serial killer, that got away last time, but now he's thrown down the gauntlet. Normal people would tell the police and stay away, but Anita is the hero which means she goes to Vegas to hunt the monster, because that what a hero does. They fight the monsters for us. Edward, assassin par excellence is back, and Olaf our favorite friendly serial killer, joins us again as back-up. There are weretigers, and vampires, and Las Vegas.
MABERRY: Tell us about your next book.
HAMILTON: DIVINE MISDEMEANORS is the next Meredith Gentry novel and I'm still so fresh into writing it that I don't want to talk much about it. I find that some books if you talk too much, too soon, you use up some of that energy that should be saved for the computer keyboard.

Comments Closed