A Conversation With Alafair Burke
JONATHAN MABERRY: Most books can be labeled under several different genre/subgenre. How would you classify your books?
ALAFAIR BURKE: The good kind.  Isn't that what we all say?  They're probably best described as procedurals although the last couple have crossed over into thriller territory.
MABERRY: Legal thrillers depend a lot on research. How much did you know going in and how do you deepen your well of knowledge?
BURKE: I don't usually describe my books as legal thrillers because (1) the term's an oxymoron, and (2) they aren't the kind of courtroom, trial-driven books that are usually characterized as legal thrillers.  That said, I do draw on my background as a prosecutor and law professor to write these police and prosecutorial procedurals (how's that for alliteration?).  I clerked for a federal appellate court, then worked as a Deputy District Attorney for several years in Oregon before joining the faculty at Hofstra Law School, where I now teach criminal law and procedure.  As a prosecutor, I also worked directly out of a precinct as an advisor to police, so I like to think I know both the police and prosecutorial rules and cultures pretty well.  The difficulty for me is to not bog the reader down with legal explanations, but instead find fresh ways to use that knowledge to make the books vivid, realistic, and distinctive.
MABERRY: What makes a scene come alive for you as you write it?
BURKE: I play the scenes out as if I were creating a movie, then do my best to replicate the voices in my head and the images on my mental screen.
MABERRY: What hits you first when creating a new book: character or plot?
BURKE: For me, a good book's plot and character are integrated.  My first three books were about one character, Samantha Kincaid.  But for my fourth novel, Dead Connection, I was intrigued by a story involving internet dating that ultimate Samantha could not be the one to tell.  The desire to integrate plot and character was in part responsible for my decision to create a new character, NYPD Detective Ellie Hatcher.
MABERRY: Your characters tend to be conflicted. What's your process for crafting a layered character?
BURKE: I don't want my characters to feel clichéd.  And now that I have two different protagonists, I want them to be distinguishable from each other in real ways, not just hair color and geography.  I think about parts of my own personality, since I like to think I know myself pretty well, and draw on different sides of myself to flesh out both women.  I of course find inspiration in other people, but don't base entire characters on any one person.  I also try to imagine how they might respond to the burdens I throw at them.  Seeing how a character responds to pressure is a good way for readers to get to know the person a little better.
MABERRY: Talk about book signings. Are they worth the effort? Are they fun? Any quirky signing anecdotes?
BURKE: I have no idea whether they're worth it from a strict economic perspective, but they are worth it for me because one of the best parts of this gig is meeting the readers who have made it possible for me to publish.  As you know, writing can be very isolating, and my day job as a professor is also pretty solitary.   Leaving my office, stepping away from academia and my computer, and talking to book buyers and readers is more than just fun; it's validation that the work is actually finding a place, and that's pretty special.
I've had a couple of awkward moments in signings, either because of low (no) turnout or because someone has been inappropriate in the level of contact they expect at such an event.  Probably the highlight of touring came last summer at Poisoned Pen in Phoenix.  A woman came to the signing table with a baby balanced on her hip, introduced her as the newest Alafair, and asked me to sign the book for her.  How cool is that?
MABERRY: Publishing has been as hard hit as other industries by the economic tsunami. What's going to keep the book business afloat?
BURKE: The question's above my pay grade, but I suspect that, just as music, film, and TV have had to adjust their business models because of technology, the book industry may do the same.  A new "hardback" can be purchased for Kindle for ten bucks.  That development's likely to help the big names sell even more books, but might make it harder for emerging writers to break through.
MABERRY: What's your process from "Hey, I have an idea!" to "I just sent my manuscript to my editor!"
BURKE: I play with the idea until I have a shell of a story: who did it, why, and those few big, a-ha clues that will help drive the plot.  Then I start on page one and keep going until I'm finished.  I don't outline.
MABERRY: Talk about your current book.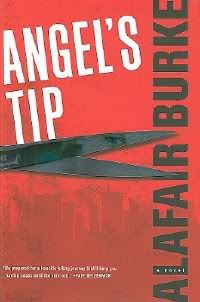 BURKE: Angel's Tip was inspired in part by the murder of Imette St. Guillen, a John Jay  graduate student who was killed after staying behind at a Soho bar without her friend because she wanted to have one last drink.  The case reminded me of the Natalee Holloway murder.  Both made me remember all the times as a younger woman that I had that fight with my friends when one of us wanted to stay out when everyone else was ready to go home.  I'd been on both sides of the conversation too many times to count, but had always been lucky.
In Angel's Tip, Indiana college student Chelsea Hart is clubbing in Manhattan's meatpacking district on spring break.  When her friends head back to the hotel, she stays behind for one last drink.  NYPD Detective Ellie Hatcher finds her body the next morning.  As tends to happen in my books, things get more complicated from there, but what I wanted to explore in the book are the ways a luxurious club filled with beautiful people and free flowing alcohol can cause people to feel invulnerable.
MABERRY: Tell us about your next book.
BURKE: The title's still a secret until the publisher officially signs off on it, but it will be out next winter.  It's very loosely based on the downfall of our former New York governor.

Comments Closed
5 Responses to A Conversation With Alafair Burke