A Conversation With Barry Eisler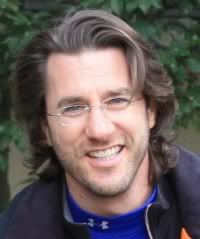 JONATHAN MABERRY: Barry…your books have elements of a lot of genres and subgenres– adventure, espionage, thrillers, mysteries… how do you classify what you write?
BARRY EISLER: I'd say I'm known mostly as a thriller writer, and that seems about right to me.  For me, generally speaking, "literary fiction" means stories that are driven primarily by who; "genre fiction" means stories driven primarily by what.  In other words, character driven vs. plot driven stories.  There's nothing wrong with either; the only problem, I suppose, is when a writer thinks he's writing one and is actually writing the other.
How can you tell whether a book is more literary or more genre?  One good sign that you've read something more on the genre end of the continuum is forget-ability.  If the pages were flying by while you were reading it, but shortly after finishing you're no longer thinking of the book and its feeling doesn't linger, it was probably more genre than literary.  If you remember the characters, though, if they still seem real to you long after you've finished the book, if you can instantly recollect the feeling of the book just by thinking about it, if the book stays with you… I'd call that more literary.
It should be obvious at this point that the best books are both genre and literary:  you can't stop reading while you're in the book, and you can't stop thinking about it when you're through.  There's plenty of fiction out there that fits the bill, but it's classified as genre more often than as literary.  Genre aspects tend to eclipse literary aspects when it comes to classifying a book because the genre aspects are more obvious.  For example, Dennis Lehane's MYSTIC RIVER succeeded perfectly as both genre and as literary fiction, but it's more widely known as genre because the mental and marketing category "crime" is easier shorthand than "vivid characters; convoluted, Greek tragedy personal history; haunting sense of place."  If I were Dennis, I wouldn't mind being known more as genre than as literary.  A rose by any other name smells as sweet — but genre sells better.
By now, you've probably guessed that what I respond to as a reader is both, and not one or the other.  I can't get through books that are boring but supposed to be good for me.  But a page-turner without substance doesn't do it for me, either.  Actually, if there's no substance, I won't be turning the pages — we're back to boring, just without the "it'll be good for you" promise to get you through.
As for my own books, I like to think they succeed as both genre and literary — at least, that's what I aim for.  But I don't spend much time thinking about it.  I just write the stories that interest me, and try to write them in as powerful a way as I can.  As far as sales and marketing goes, though, again, it's great to be known as a thriller writer.
MABERRY: What kinds of scenes from your own books really jazz you?
EISLER: Well, I like all my scenes — action, dialogue, settings that function among other things as a Rorschach test for the characters perceiving them.  But I guess my favorites are often the sex scenes.  It's hard to write a sex scene, and getting one right means not just that the scene itself does the job, but that everything that leads to the scene — the characterization, the dynamics between the characters, the events in the story — has been well done, too.  Plus sex scenes satisfy my omnipresent inner 14-year-old.  All time favorite?  That's another tough one, though I'll admit I'm partial to a certain very close encounter in Fault Line. Not gonna tell you the page number, though.
MABERRY: Talk about the movie!!
EISLER: Funny, I've been meaning to update my website movie FAQ, and this looks like my opportunity!  Let's see…
Got to see the RAIN FALL screening at Sony's headquarters in Tokyo recently and it was a blast.  Have to admit, seeing "Based on the bestselling novel by Barry Eisler" in the opening credits was a very cool feeling.  The movie is quite different from the book, but that's to be expected.  About 40 local Rainiacs showed up and everyone seemed to enjoy it.  The public premiere in Japan is April 25; not sure still about overseas dates but will update this FAQ as soon as I know more.
I got to meet Gary Oldman and the rest of the cast on the set, which was a thrill.  Sony bought my screenplay adaptation, but in the end director Max Mannix decided to write his own, which is fine by me — there are a lot of ways to interpret the story for the screen and I can understand the director wanting to use his own.  I had no creative control and my primary role has been cheerleader and happy recipient of a nice windfall of promotion.
Lots more info on my discussion board, photos from the set, and the movie trailer.
MABERRY: Now that you're expected to turn out books on a regular basis…is the process still fun?
EISLER: Well, if you love writing, hopefully it's like sex — you never lose your enthusiasm, and with continual practice, you only get better.
MABERRY: Thrillers are red hot.  What's the draw the brings people to this genre?
EISLER: Well, if you had to choose, would you rather be in suspense, or mystified, or thrilled?  And if your answer is, "I'd rather be romanced," that probably explains why Romance is the biggest category of all.
MABERRY: Publishing has been as hard hit as other industries by the economic tsunami.  What's going to keep the book business afloat?
EISLER: ITMS.  (It's the Marketing, Stupid).  There's only so much you can do about a down market, much of which will involve cost-cutting and other areas in which I'm not in a position to offer a meaningful opinion.  But it certainly wouldn't hurt matters if publishers could be more competent at the fundamentals of the business they're in.
One of the great things about the industry is the way it attracts people who love books, and the way that love infuses the culture.  But the overlap between love of books and native business acumen is fairly narrow.  Partly as a result of that narrow overlap, the industry is characterized by a startling lack of innovation and what might best be described as cargo cult thinking.
Here's a relatively trivial example.  Recently, one of my publishers sent me a proposed jacket bio that began with, "Barry Eisler is the author of RAIN FALL, HARD RAIN, RAIN STORM, etc.  He was born in 1964 in New Jersey…" and ended with, "Eisler lives in the Bay Area, California." Buried in between was information about how I spent three years in a covert position in the CIA and earned my judo black belt at the Kodokan in Tokyo, and that the first of my books, RAIN FALL, has been made into a movie starring Gary Oldman and will be out in April '09.
See anything wrong with this picture?
If you live in a cargo cult universe, you think:  "All books I've seen have things called author bios on the jacket.  The bio things include information on where the author was born and when, maybe on some other books he's written, something about a movie if that applies.  I'll cut and paste whatever form we've used for other authors and presto, there's the required bio and now it's Miller time."
But if you're thoughtful, you pause and ask, "Why do we include a bio?  What is its function?  What objective is the bio intended to accomplish?"
Answer:  in the longer term, the bio is intended to hone and amplify the author's brand.  In the immediate term, it's intended to get the potential customer to flip the book over and read the inside jacket.  Or start reading the first chapter.  Or take whatever other immediate preliminary step is likely to make her more motivated to carry the book to the cash register.

Let's analyze the means by which the bio above would have accomplished these objectives.  Have you, as a potential customer, ever been moved to buy a book by when the author was born, or by where?  Or by where she's living these days?  "Holy smokes, this guy was born in Newark, sounds like my kind of writer."  "Damn, she lives in Bakersfield?  Gotta read this book."  Is a brand that would be honed and amplified by such information even conceivable?
As for a long listing of the author's previous works, readers who know them all are already going to buy the book, in which case their mention in the bio is useless (besides, they already appear inside the book under "Also by"). Readers who don't know the previous titles will be put to sleep by their recitation.
So not only is bio information on place and date of birth, previous titles, and current residence useless, it's actually harmful, because its appearance increases the likelihood that a potential customer will yawn and replace the book on the shelf before getting to the useful parts — in my case, CIA, judo, and movie, all of which are relevant to my brand and increase the chance that someone who reads them will take another intermediate step closer to the cash register.
I see this kind of sloppy stuff from publishers all the time in a variety of areas, so I get a little impatient when I hear complaints about what a tough market it is.  Yes, it's a tough market, but when has a market ever been easy? Business is always competitive, and if you want to succeed in it, you're obliged to work not just hard, but smart, too. Sushi is delicious, but how much of it would be sold if it were marketed as Cold, raw, dead fish?

Which, if you look at a lot of titles and jacket designs out there, is pretty much the way publishing houses are hawking their own wares.  You can't complain that people won't buy it if you don't know how to sell it.
For more of my wishy-washy opinions on marketing, how to package a book, and related topics, check out the For Writers page of my website.
MABERRY: How do you go about constructing a new novel?
EISLER: I just keep asking who, what, where, when, why, and how for every next step.  Plus there's a lot of online and onsite research.  Also there's no substitute for gluing your butt to a chair.
MABERRY: Talk about your current book.
EISLER: FAULT LINE is a tale of two estranged brothers forced to come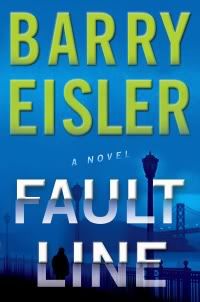 together when one of them becomes a target in a struggle for control of a new technology. The younger brother, Alex, is a Silicon Valley  lawyer who has recently agreed to represent the inventor of an innovative encryption application. But when the inventor is murdered, Alex realizes he's the next target and sends a desperate email to his brother. Ben, an Iraq War veteran, is currently stationed in Istanbul , a deep undercover soldier tasked with taking down targets in the Global War on Terror. When he receives Alex's email, Ben is enraged to see that even after all these years things are as they were: Alex getting into trouble and asking his big brother to bail him out. But blood is thicker than water, and Ben rushes home to try to figure out exactly what Alex is up against. But they're not alone. Tangled up in it all is the only other person who knows about the application—Sarah, the legal associate on whom Alex has long had his eye…and who Ben doesn't trust.
I think the inspiration for the story came partly from my odd career path, which took me from being a covert employee with the CIA; to an international lawyer in DC, Silicon Valley, Tokyo, and Osaka; to a high-tech, venture-financed start-up executive in Silicon Valley.  Any one of those worlds is a potentially interesting milieu in which to base a story; having insider knowledge of all three is just too rich an opportunity to pass up.
But maybe all of that is more about the story's foundation—necessary, but not sufficient; the body, but not the spark of life.  What really catalyzed the story was my sense of two brothers—one from the covert world, the other from the high-tech—who hated each other and hadn't even spoken in years.  What would happen if one of them, the lawyer, got in trouble, and called on his big brother, the covert military operator, for help?  The younger brother would hate to make that call, maybe even more than the older brother would hate to receive it.  What would the older brother do at that point?  What if the two of them were forced to work together just to survive some kind of conspiracy?  Would they be able to?  Or would distrust and recriminations and spite overwhelm them?  What if, even as they were struggling in the face of grave danger with all this mutual hostility, their deep-seated animosity and resentment were brought to a boil by the presence of another lawyer, say, a beautiful Iranian-American woman who both brothers desire but can't really trust?
The more I thought about these characters and the worlds they came from, the more questions I asked about who they were and what was forcing them together, the more excited I got.  I guess that feeling of excitement is the best kind of inspiration a story can ever have.
MABERRY: Tell us about your next book.
EISLER: It's a sequel to FAULT LINE.  The protagonists went through so many profound changes in the first book, it's going to be fascinating to see how they deal with the events of the new one.
– JM
Find Barry Online Here –
His Website…
His Blog… THE HEART OF THE MATTER

Comments Closed
2 Responses to A Conversation With Barry Eisler